Combat and competition ready auto pistols with 7 interchangeable barrels
Arm yourself with the potent .10mm or .45 ACP--at the range, substitute the milder .38 super for practice with the same familiar feel. Gunworks introduces the "Wolverine," a competition-ready handgun, built and designed around the 1911 Colt auto-pistol frame. The "Wolverine" features 7 interchangeable barrels--chambered for .45 ACP, .45 HP, .40 S&W, .38 Super, .38 Wadcutter, .10mm and .9mm. Out-of-the-box, this firearm is ready to "take on" the top competition, requiring no modification or customization. "Wolverine" is designed with a highly modified lower frame and heavier "beefed-up" Peter Stahl upper assembly of thicker walls to withstand the slide velocity produced by the .10mm cartridge--coupled with a locking design, superior to that found in other 1911 style semi-auto pistols.
Two models--"Competition" and "Combat, " are offered with 5" or 6" semi-polygonal barrels. Optional compensators are available.
Many high-grade features such as square match, fully adjustable rear sight, round burr-style hammer, oversized button magazine release, high grip system to reduce muzzle rise and felt recoil, knurled back strap and skeletonized trigger with hand tuned, medium weight pull.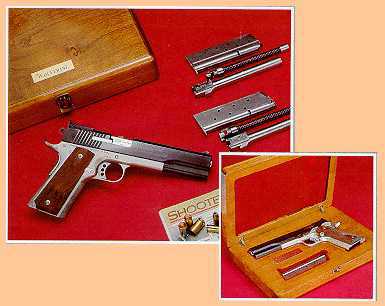 "Wolverine" is built to a customer's specifications with choice of wood or Packmayr grips, a choice of metal finishes including polished blue, electroless nickel, and black teflon or a combination of the above. A handsome, polished hardwood presentation case is also available. Empty weight is approximately 2 pounds 6 ounces. Superb accuracy and less recoil describes "Wolverine."

The above text is from the producers of this pistol and not mine.
I've been trying to get more info about this gun, but the site I had for its manufacturer is no longer valid. If a visiotr has more details, I'll appreciate any info you can send me.