Product Tests : Action Supplies Grips
A member of the M1911.ORG forums site is in the custom grip making business. His company is called Action Supplies and is located in Australia. Paul, like most folks I've met in the Internet from down-under, is a very nice guy, friendly and open. He decided that I should have a set of his custom-made grips, so he send me a pair to try out. Admitedly, these were from his first production sets, so there were some minor issues that have since been taken care of.
The grips I received from Paul, were a nice surprise. They were made of Australian Desert Wood, and they had my initials hand-engraved on them. They were smooth on the outside, something I like on a carry gun, and they were polished and varnished to a semi-glossy appearance.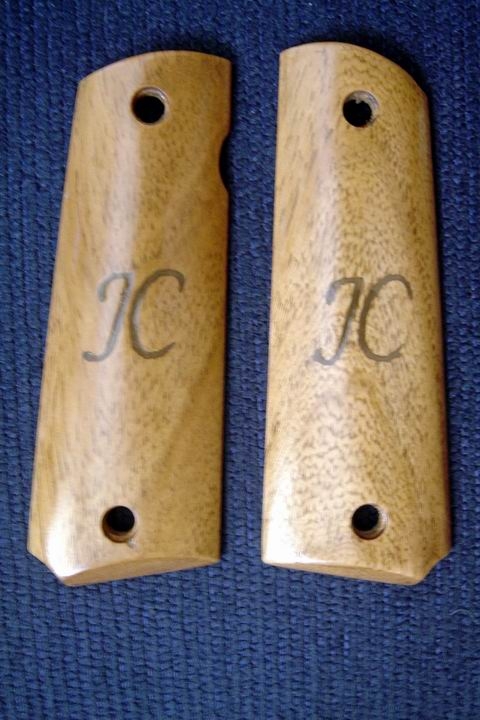 The initials letters were not only engraved, but enhanced with a special die, which made a very nice contrast with the grips wood. I immediately took out my .45 ACP 1911, to mount them on.
It was then that I noticed the first issue. The holes for the grips bushings, were a bit off, so they grips not a good fit. I contacted Paul, who explained to me that he has taken care of this problem, and explained what I could do to relieve the holes a bit, so that the grips could fit my Colt. Following his instructions, I filed the holes a bit, just a tiny bit, and the grips went on the pistol fine.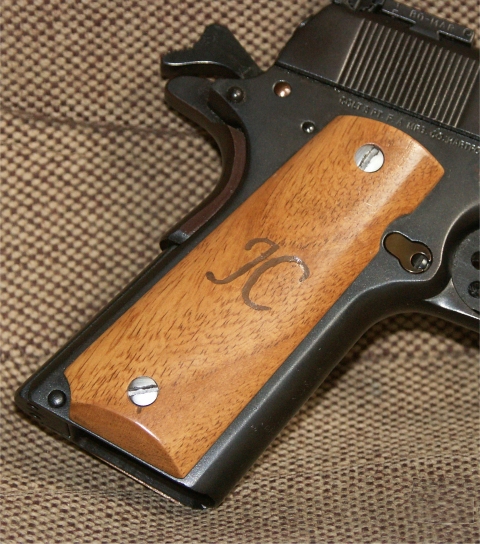 The grips colors were nicely contrasting the blue of the pistol. Even my wife, who has no relation to guns (other than being married to me, I guess), liked them, she commented that "these are some fancy and personalized grips".
As I was examining the grips, I noticed one small problem. The right grip panel was not totally flat with the pistol. I took the panel off and let it rest flat on my desk. Indeed it was not totally flat. Again, I e-mailed Paul, and inform him about this issue. He said that he was in a hurry to send me those grips and when he was making them, his belt sander tension mechanism was out of adjustment and he hadn't noticed it. He also told me that he has changed wood supplier since the time he made my grips, and now his grip blanks would arrive in his shop in 'pre-fabricated' chunks, so the flatness issue should now be resolved.
Well, I left the grips on the 1911 for the Holidays season, after all it's only appropriate to have your pistol personalized a bit during such periods of time, it gives you a little more joy.
I want to thank Paul for the opportunity to test those grips, as well as for spending the time to personalize them for me. I am sure if there weren't that small flatness issue, his grips would be the standard grips on my 1911. I wish him the best in his business endeavours, someone who loves the 1911 enough to make it a business, deserves the best, especially if he is living in a non-pro-gun country, like Australia.

Return to Product Tests