Product Tests : The Busted Knuckles Holster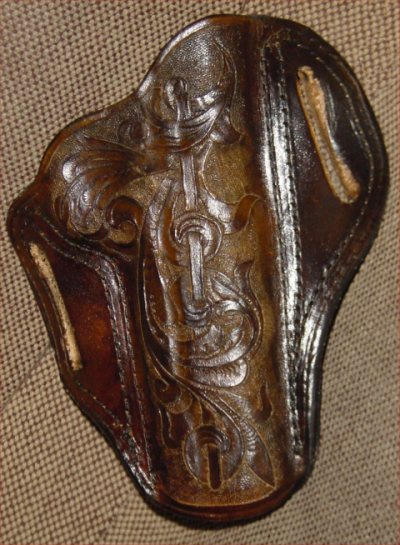 Some time ago, I was contacted by Cleve Stanton, the owner of The Busted Knuckles Holster Company, who send me some pictures of his work. I was pleasantly surprised, because Cleve's holsters were a work of art, with beautiful carvings. Cleve offered to send me a holster for my 1911s, to try it out and here are the pictures of the holster I got.
Design-wise, the holster is a plain pancake style one, made from cowhide. It is unlined with a double perimeter stitch of strong poly thread, boned to precisely fit the 1911. Ět has a brown color with a bar and acanthus design carved in it.
I tried the holster for some days, in the end of April 2003, and I can report that it is a very comfortable holster. Soon after I put it on my belt and inserted my 1911 in it, I completely forgot about it being there. It carried the weight of my Government model pistol quite comfortably. I then proceeded to do some simulated fast draws from the holster, and the presentation of the weapon was easy and swift, no binding, no problems. The only thing I noticed, was that the holster comes with an FBI tilt, which is more accute than what I am accustomed to. So I had to position the holster a little more backwards on my waist, to accomodate for the different angle. This did not create any other implications though.

As with all the other products tested around end of April 2003, I still haven't got the chance to do some real range tests of this holster, but I am sure there will be no surprises.
One thing I would like to see added to this holster, is an extension of the rear part of it, to cover the rear end of the slide, hammer and beavertail area. If you live in warm climates, and you carry your pistol on yourself during summer months, without that protective extension, your skin directly touches the pistol. This can have bad effects both for the pistol (rust) and for your skin (small scars, due to the edges of parts, like hammer). Apart from that, there was nothing else I didn't like about this rig. Even though I never fancied carved holsters, this one is so unobtrusive, that I wouldn't mind wearing it.
Please keep in mind that The Busted Knuckles Holster Company is in reality a custom holster maker, so when you call to order your rig, you may ask him to include the protective extension, or any other feature you might want.
Thanks Cleve for such a nice holster, I appreciate it.
To see the contact details of this product manufacturer, click here.

Return to Product Tests