Product Tests : Esmeralda Grips
As you might have noticed, Esmeralda is one of M1911.ORG sponsors. When we agreed for the sponsorship, Esmeralda was kind enough to let me select one of her grip sets, as a gift to me. In her site, you have the chance to see the grips before ordering them, each set being unique, this is a very useful feature.
The grips I selected were a set of cocobolo grips, with smooth finish (no checkering) and with an ambi safety cut. Although I don't use ambi safeties, you never know what the future will bring, and the grips were so beautiful, I couldn't let them go. I also wanted to try smooth grips, since I've never had such a set before and I was wondering if they would be as functional as the traditional, checkered ones.
In any case, a week later, a small parcel arrived in my mailbox. Upon opening it, I found the set of grips I've asked for. The grips were stored in a nice cardboard box. They were signed on the back by Esmeralda herself, and there was even a diskette, with full-size images of my set. I was amazed by the attention to detail, and by the looks of the grips.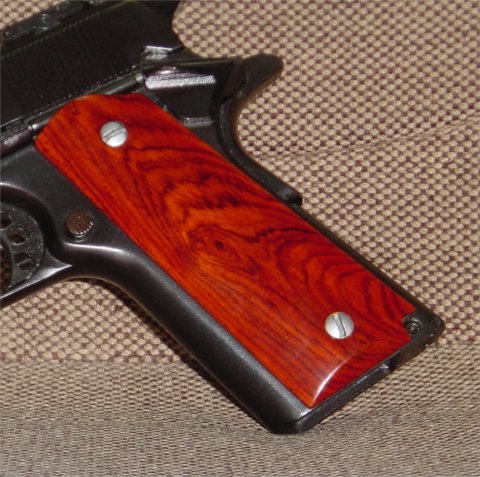 First, the grips surface was flawless. Not s single tiny mark, completely smooth and even. Then, the colors were even nicer than I though, from seeing the grips in Esmeralda's site. Unfortunatelly, at that time, my pistols were "safeguarded" by the Greek Police, so I couldn't try them.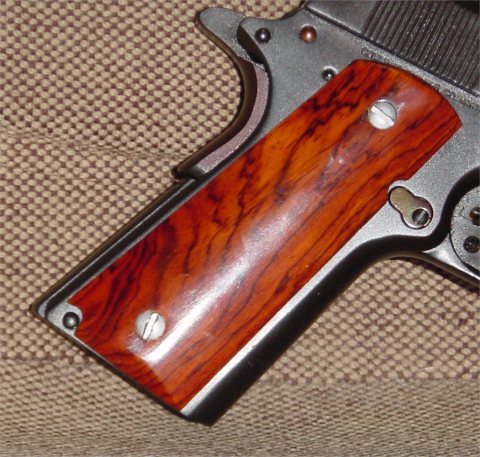 As soon as I got my pistols back, the first thing I did was to try Esmeralda's grips. A perfect fit. The grips were looking lovely on my blued Bigmouth!. Next, I did some tests, like quickly drawing the pistol from a holster. What I found was that with the smooth grips on, my hand tends to slide all the way up the grip of the pistol, offering a more secure purchase. With checkered grips, some times, my hand does not reach as high as possible, and I have to shift the pistol in my palm, to get the best possible grip. Not with the smooth ones though.
I still haven't got the chance to try these grips while shooting the pistol, this weekend the shooting ranges are closed due to the Orthodox Easter, but I'll definitely go shooting next weekend, so stay tuned for more.
To see the contact details of this product manufacturer, click here.

Return to Product Tests