Product Tests : Woodgrips
As you may have noticed, Woodgrips.COM has recently become a sponsor of M1911.ORG. This company is owned by Greg Warne, the man who started Kimber. Greg's favorite pass-time is to travel through central America sourcing fine cocobolo, which is exclusively used to make Woodgrips grips. The company's production includes several models of M-1911 pistol grips, but also grips for other fine firearms, such as Ruger's Single Action, Bisley and MKII, Browning's High Power, Smith & Wesson revolvers and 45xx pistols etc.
Soon after the sponsorship agreement was in place, I received a gift from these people. The package which was delivered to my door, included two sets of grips for the M-1911. These were really the most beautiful grips I've seen!
First of all, the wood colors were terrific, starting from dark brown, all the way to a light orange.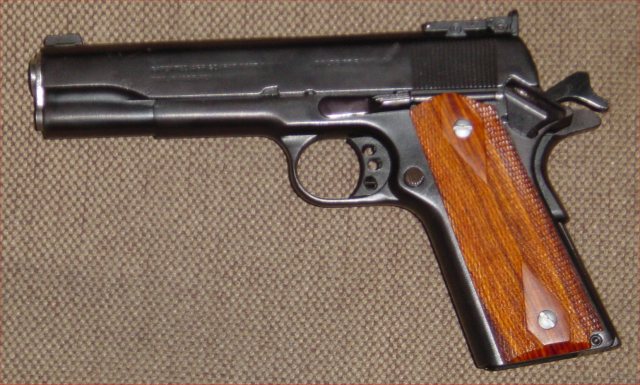 These grips are hand-checkered at 20 lpi, and they feature the double-diamond pattern. Their checkering was impecable, all lines being of the same depth and truly parellel to one another.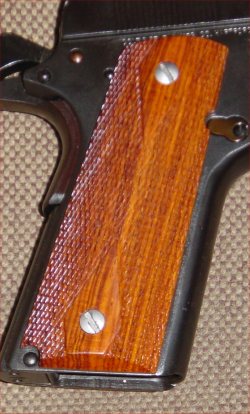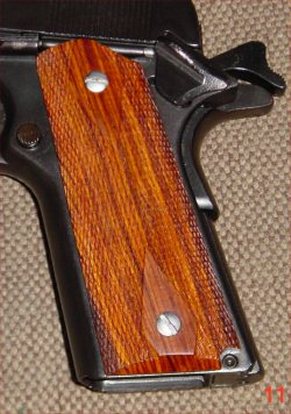 The second set of cocobolo grips were a bit more dark, with burgundy & black colors, but equally attractive.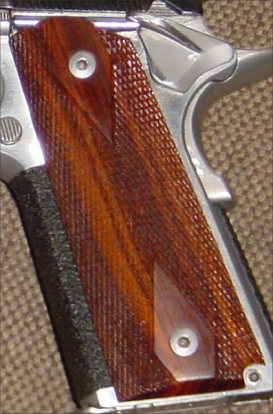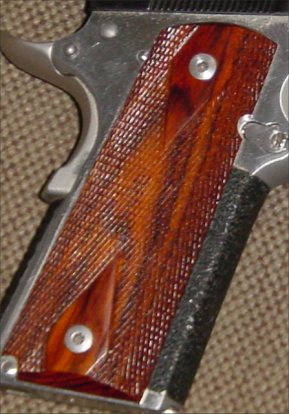 I tried the grips on my trusty M-1911 and they were a perfect fit, tight but very accurate. The grip screws fit perfectly and they are absolutely flash with the surface of the grips, which shows attention to detail. Both sets are cut for ambi safeties, I do not know if this is a standard feature or you have to ask for it, but it is available and this is good.
All in all, the grips are of very high quality, the woods used are just beautiful, and they fit the gun like a glove. If you are interested in giving your old workhorse a new look, this is the way to go. The people at Woodgrips.com are very helpful, so get in touch with them.
If you want to get in touch with Woodgrips, here is their Web Site, at http://www.woodgrips.com.

Return to Product Tests