Attention: Ssang Yong Musso Owners
---
If you need spare parts for your truck, read on.

Else, click here, to read about my Musso.
---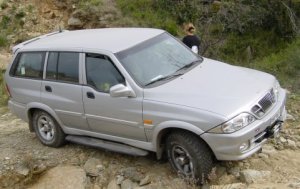 After Ssang Yong and Daewoo divorce, in some countries, owners of Ssang Yong trucks (Musso and Korando), are facing huge problems obtaining spare parts for their tucks. Several people have wrote to me to ask, if it is possible to get the parts they need from me, so they can still enjoy their 4x4s.
Fortunatelly, in Greece, we can still obtain parts for these trucks. So, if you need some spares for your Musso or Korando, you may with your needs and I'll try to help you.
I typically charge a small amount above the parts price, to cover my expenses and lost time. What you pay, is the full price of the part you need, the shipping cost (with your preferential carrier) and this small fee for me.
One more thing, I just received an e-mail drawing my attention to the following shop, in UK.
I haven't tried them, and I do not know them, so I can't recommend them. But if this is a source of Ssang Yong and Daewoo parts, that can help other owners, there it is. Try it out and let me know about your experience.
You may now proceed and see our Musso and read all about it.

Return to our Trucks Page