M-1911 Models : Smith & Wessson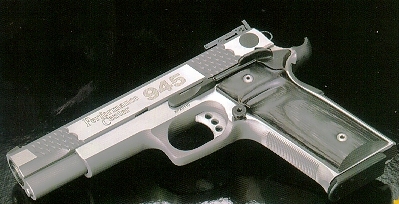 This is the first Smith and Wesson effort in making a 1911 clone. This pistol is Model 945 and was revealed in the 1998 Shot Show, and several people were able to see and touch prototypes of this pistol, which is created by the well-known Smith & Wesson Performance Center.
The gun looked very much like a single-stack, stainless steel M-1911, but in reality it wasn't. The frame was a standard, third generation S&W frame, fitted with a beavertail grip safety (Wilson's), a standard M-1911-looking ambidextrous thumb safety (extended, actually an Ed Brown M-1911 product) and an oversized magazine release button. The trigger was an adjustable, skeletonized Videki. All these are standard dimension, M-1911 parts. The grips were wood laminated.
The top part looked like a standard S&W slide, with a spherical bushing at the front, which according to the specs, was coated with titanium. This was not a removable bushing. The barrel used a linkless lockup mechanism and the barrel axis sits about 0.25 of an inch lower than in an M-1911 (less perceived recoil?). The grip angle was 3 degrees less acute than in the M-1911. The grip of the pistol was 0.375 of an inch longer than that of an M-1911 and its front-to-rear dimension was larger by 0.15". Finally, the S&W was heavier by 4 ounces.
Sight-wise, there was a Bomar adjustable at the rear and a post front. It also included a full-length guide rod. Distinguishing features were the front and rear cocking serrations, which were done in a very nice way. The gun was finished in bead-blasted stainless steel. The magazine capacity is 8 rounds.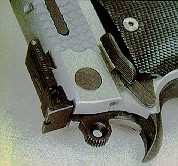 Dick Metcalf of "Shooting Times" magazine, did an actual comparison between this pistol and a similarly equipped M-1911. The results of the comparison show that the 945 has less perceived recoil and it is faster to recover from shot to shot. This was mainly due to the above differences in pistol ergonomics and weight. During this same test, the M-945 proved quite accurate, averaging less than 1.5" for 6 different loads of .45 ACP ammo.
But, it WAS NOT an 1911.
Finally, S&W has also joined the ranks of M-1911 clones manufacturers in 2003. Their latest offering, appropriately named SW-1911, is now available.
Features include:
Specifications
Model:
SW1911
Product Code:
108282
Caliber:
.45 ACP
Capacity:
8 +1 Rounds
Barrel Length:
5"
Frame Size:
Full Size
Action:
Single Action
Height:
5.8"
Front Sights:
White Dot
Rear Sights:
Novak Lo Mount Carry 2-Dot
Grips:
Checkered Black Rubber
Material:
Stainless Steel
Finish:
Satin Stainless
Overall Length:
8.7"
Weight:
39 oz.
External Safety:
Single Side
Other Features:

Extended Beavertail for increased control
Crisp Single Action S&W Trigger Pull
Combination grip safety & firing pin block - Does not affect the trigger pull
External extractor for extremely high auto loading reliability
Gun comes with two 8 round magazines
Skeleton hammer for faster lock time and increased accuracy
Novak® Low Mount carry sight
This time, S&W has come up with a real 1911. It remains to be seen, if purchasers will consider it as a viable alternative to other, more recognized manufacturers in the 1911 business.