Parts Manufacturers : Caspian
Caspian is an old name in the M-1911 frames and slides business. They are used by lots of gunsmiths all over the world, to create custom M-1911s. The following items are available:
Barstock receiver Made from a heat-treated billet of plate steel, it is machined to extreme tolerances to satisfy even the most demanding customer. It can be had in either 4140 blue steel, 416 stainless steel 6061 T-6 Aluminum or even Damascus Stainless. It can be ordered from the factory with 20 lpi checkering on the front strap, cut for a ramped barrel, cut for beavertail safety (.250" radius), drilled and tapped for scopes or have a customized serial number. The aluminum receiver can be ordered with a factory installed steel ramp.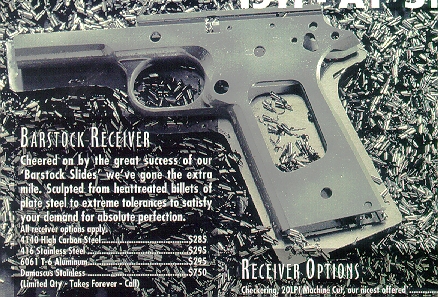 High capacity receiver kit This kit includes a high capacity receiver with integral mag well, beavertail grip safety, ambi safety, mag catch, your choice of flat or arched mainspring housing, trigger and die cut grips.
Race-ready receivers Made of 4130 blue steel or 410 stainless steel, they can be ordered with or without a fingergroove.
Investment cast receivers Available in a variety of lengths (Government, Commander, Officers and smaller than Officers) they are produced by Ruger's Pine Tree Foundry and come in 4130 blue steel or 410 stainless steel or 356AL T-6 Aluminum. The smaller-than-Officers model is only for gunsmith work, as it will require several additional custom components, in order to become a pistol.
Barstock slides Made of 4130 high-carbon steel, or 416 stainless steel, these slides are between the best the market has to offer. You can order your slide with sight cuts (Bomar, Heinie, Novak, Optima, LPA), with a front sight dovetail, with front cocking serrations, cut for a hybrid barrel, with a flat-top or with a serrated flat-top, or even with your own name engraved on the right side of the slide. Available at Government, Commander, Officers and 6" length.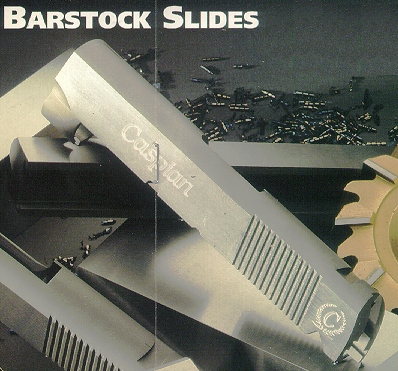 There is even a Damascus stainless slide, with matching compensator if you so want.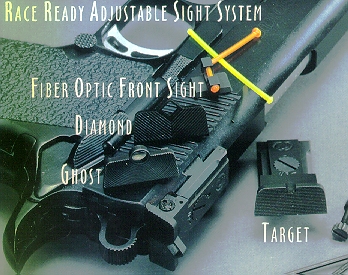 Of course, Caspian is also producing several parts for the M-1911, such as target sights, scope mounts, grip panels, compensators, slide stops, extractors, firing pins, firing pin stops, mainspring housings, grip safeties, sears and disconnectors, hammers, grip bushings, ejectors and plunger tubes.

One thing that draw my attention is the AFTEC Modular Extractor, a coil spring powered extractor, with a life-tiome guarantee. It would be interesting to test such a device, as the extraction is one of the most problematic areas in the M-1911.

Finally, Caspian has informed me that (as of June 17th, 2003), the have some 19 complete left-hand 1911 sets (in stainless steel, I think), which might be of interest to the southpaws among you out there. They come in a kit form, with all the parts included and two magazines.
Also, Caspian, as of March 2004, is making original, look-alikes of the original M-1911 (not the A1) frames and slides.
If you are interested, e-mail Gary at Caspian.